THE AESTHETIC AND FINANCIAL BENEFITS OF CABINET REFACING
Our motto at CCFF is, "Your Home, More Beautiful." We want your space to be updated and luxurious while also feeling like home. Even though full remodels may seem like the only option for this, refinishing and refacing can transform your home at a fraction of the cost. What is refinishing? We use a propriety blend of paint that is not available to  homeowners. At our facility, we have professional paint booths which allow us to create a perfect finish every time. Our refinishers are not painters. They are professionally trained and have partnered with us for 12 years now.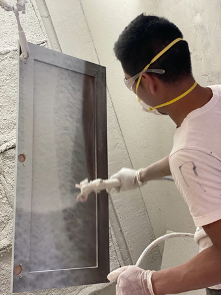 REVAMP YOUR KITCHEN WITH CABINET REFACING
1. KEEP YOUR KITCHEN LAYOUT
Are your cabinets in good shape but you dislike the door style? Refacing is an affordable option. We can provide all new drawer boxes, rails and hinges for your kitchen. We can also make other changes like a new hood, new island or new desk area.
2. GOING GREEN
If you're contemplating refacing your cabinets rather than replacing them for environmental reasons, you can rest assured knowing that this option is eco-friendly. Considering very few materials will be thrown away, your project will make a minimal impact in a landfill. Minimizing your carbon footprint and improving your kitchen makes this a win-win.
3. SAVE ON MATERIALS
A major price factor for new remodels are the cost of the cabinets themselves. By foregoing all-new cabinets and opting to reface them, you'll save up to 50 percent on the project in comparison to the price of brand-new cabinets.
4. EXPLORE NEW HARDWARE
Hardware can all be replaced to give your cabinets a chic, fresh look. Your cabinets have the potential to design a bold, elegant or simple look with these small details.

5. COMBINE WITH NEW CABINETRY
Do you have a vision for a small, unused nook? Perhaps some cabinets and a counter would work really well there. Just because you want to add a few cabinets doesn't mean you have to replace your existing ones. In many cases, your current cabinets can be refaced to match or complement a few all-new cabinets.
6. SAVE TIME
Refacing your cabinets can be a relatively short project. By saving time, you can get back in your kitchen quicker and resume everyday life as you know it.   
7. KEEP YOUR COUNTERTOPS
Do you have countertops you absolutely adore? You don't have to sacrifice them! During the refacing process, your countertops most likely won't have to be removed or replaced. By refacing, you'll save that step and – more importantly – save that cost.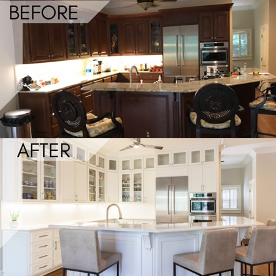 CALL CREATIVE CABINETS TODAY FOR CABINET RESURFACING
Working with your budget, deadline and ideas, the friendly and knowledgeable staff at Creative Cabinets and Fine Finishes of Marietta, GA, is ready to help transform your kitchen or bathroom. We'll take on your project start to finish to make the process, stress-free and thorough. Give Creative Cabinets of Marietta, GA, a call today at 770-693-1896. Contact us to get your project started. We're looking forward to hearing from you. Check us out on Instagram, Facebook, and Twitter to stay up-to-date with our latest projects.